Craig & the team have had the pleasure of working with the BBC for a DIY SOS project in Holmfirth, Huddersfield.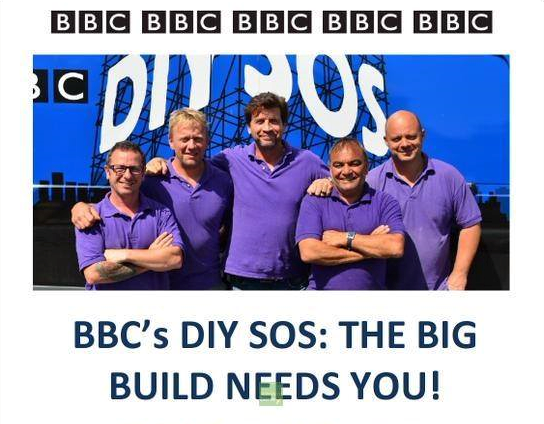 The Project
Ten years ago Richard and Jude Ford met while working for the police. They soon realised that they were meant for each other, and settled down to start a family. And now they have three sons 9 year old Harry, 7 year old Oscar and Archie who is 4. Though in his professional life Richard was a policeman, in his personal life he was not only a devoted husband and father but also keen athlete and coached his sons' football club.
In June 2012, two weeks after running the Edinburgh Marathon, Richard suffered a devastating Brain Stem Stroke. Doctors thought he wouldn't survive and he was put into an induced coma. For 9 months he suffered from Locked-In Syndrome, meaning he was aware of everything that was going on around him but could not move or communicate. He's no longer locked in but Richard has extremely limited movement and speech and is confined to an electric wheelchair and communicates via an ipad. Since his return home the family have had to convert the children's playroom to a bedroom for Richard where he has no choice but to use a commode chair to go to the toilet sometimes in full sight of his family. Tragically, though his body no longer works, Richard's mind is unaffected, so he is fully aware of his situation. He has very little privacy or independence. With the aid of his i-pad voice simulator he tells us "All I wants is to be a husband and father again".
The Build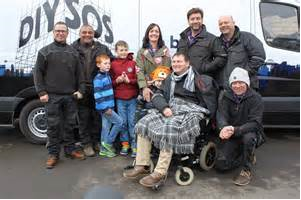 At first sight the Fords' house is perfectly comfortable – for most families it would be. But with Richard's extreme needs the situation at home is dire. He needs to be able to go to the toilet and to wash with some privacy and dignity. He has no independence and cannot access any part of his home without help. Richard receives a small police pension and they have an income from Jude's part time job as a police officer visiting schools but they can't afford to do all the work needed themselves and pay for all the additional help they need.
With this build we need to achieve two things. First, we need to give Richard back some dignity, privacy and independence and allow him the space to move freely around his home and perhaps in due course to help Jude with some simple tasks – just to make a cup of tea would be a milestone. Second, we need to give the Fords the opportunity to live together as a family once again. By adding a single storey extension we can create the space needed for a downstairs bedroom and wetroom for Richard, meaning that the family can have some of their living space back giving them quality time together, instead of just existing in the same place. The family are optimistic that Richard's condition will improve, but we believe that our help will give him a chance of the best possible recovery.
The Team
We arrived on site on a cold February morning with snow still covering the Pennine hills.
We assisted in the construction of a single storey rear extension build from stone to form a family room & an accessible bedroom for Richard. A job that would normally take weeks was completed in days due to the commitment of our team and the other volunteer trades on site.
The Ford's now enjoy a fully functional family home.
This is our proudest achievement as a company so far & will take some beating..
The programme is due to be aired in the next few months.